Thank you for Joining us at the 2021 Annual Education Symposium
Thank you to everyone who was able to join us on December 10th for our Annual Education Symposium. Recordings of the event and workshops will be available in the coming weeks.
Agenda
8:30am - Login and Explore
9:00am - Welcoming Comments
10:20am - Break
10:30am - Morning Keynote
11:15am - Break
12:20pm - Lunch Break
1:00pm - Leadership Awards and afternoon Keynote - Tabatha Rosproy, 2020 National Teacher of the Year
1:45pm - Break
2:50pm - Concluding Comments
Keynote Speaker
Tabatha Rosproy
We are thrilled to announce our afternoon keynote speaker for Symposium this year will be Tabatha Rosproy, 2020 National Teacher of the Year!
Tabatha is an exceptional educator and speaker whose passion is early childhood education and social-emotional learning. Tabatha will share stories from her experiences and shine a light on educational models that we might leverage here in Maine. Her unique pre-K classroom is housed within a retirement community and nursing home where students interact with community residents who serve as volunteer "grandmas" and "grandpas." Young and old read together, engage in music activities, go on field trips, and play games.
Learn more about Tabatha here.
Morning Keynote
Workforce Development Panel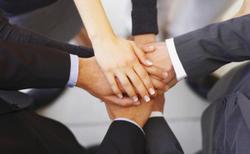 Business-Education Partnerships: Innovations in Developing and Attracting talent
Maine has a bold 10-year Economic Development Strategy guided by this vision: By 2030, Maine will be an international leader with a vibrant, sustainable, environmentally-responsible economy. All across the state, the people of Maine will have access to an unmatched quality of life and good-paying jobs. One of the three goals of this strategy is to attract 75,000 people to Maine's talent pool by increasing participation in the workforce and attracting new people from out of state. Please join us for a discussion with education and business leaders from across Maine about the ways they are developing and attracting talent using innovative pathways, inclusive partnerships, and research and development.
Moderator: Dr. Jason Judd, Executive Director, Educate Maine
Panelists: Dr. Joan Ferrini-Mundy, President of the University of Maine and University of Maine at Machias; Vice Chancellor for Research and Innovation for the University of Maine System
Dr. Catharine MacLaren, LCSW, CEAP, SHRM-SCP, Vice President, Talent & Diversity, Northern Light Health
Michael Ross, Manager, Talent Acquisition & Org. Development, Bath Iron Works
Weston L. Bonney Education Leadership Award
The Weston L. Bonney Education Leadership Award honors an individual, group, organization, or Maine business that demonstrates leadership, commitment, and vision in ensuring that all Maine students have the opportunity to succeed. Each recipient, past and present, embraces and embodies the qualities that Wes has demonstrated in his abiding support for education.
Recognizing the Maine Early Learning Investment Group
The pandemic has brought tremendous challenges to the people of Maine. It has also highlighted the significant connection between high quality child care and the ability for parents to participate in the workforce. High quality, affordable, and accessible child care must be available to all Maine families in order for our economy to grow and for our families to thrive.
The Maine business community recognizes the need to stabilize our early learning systems. In 2012, the Maine Early Learning Investment Group was created by a group of Maine business leaders to improve the quality of Maine's workforce and decrease the costs of doing business in the state by lessening future health care, welfare, and other social costs. Since its founding, MELIG has raised more than $1.6 million to support early learning and developed Elevate Maine Somerset, a partnership with Kennebec Valley Community Action Program and Educare Central Maine, to provide an on-the-ground, birth-to-kindergarten-entry quality early care and education system in the greater Skowhegan area. The success of this pilot led to additional state investment to provide funding for up to five additional early learning community partnerships across Maine. We are grateful to the founders of MELIG for recognizing the value of investing in Maine's youngest learners.
This year, we recognize the tremendous contributions of the Maine Early Learning Investment Group (MELIG) for advocating for high quality early learning for all Maine students with the distinguished Weston L. Bonney Education Leadership Award. Educate Maine celebrates MELIG for consistently advocating for early learning investment and partnering with early learning providers to strengthen the education system in Maine. MELIG Co-chair Jim Clair will accept the award.

About Wes Bonney
Wes Bonney retired as President and CEO of Peoples Heritage Financial Group (now TD Bank). Since retirement, Wes has served as a volunteer consultant for several banks in Bulgaria, Romania, Mongolia and Macedonia. Wes has a long history of public service to education including serving on the Maine State Board of Education, Muskie School of Public Service, Maine Coalition for Excellence in Education, Maine Development Foundation and John T. Gorman Foundation. At the core of his work was always an unyielding demand for equity in education. To Wes, all students deserve the resources needed to allow them to succeed in school and in life.
Thank you to our partner MELMAC!
The MELMAC Education Foundation is committed to supporting high quality initiatives that serve the purpose of increasing educational opportunities for Maine people. The Foundation believes that Maine people and the State of Maine will thrive in the new economy by providing access to the appropriate education, skills and training at all levels.
Thank you to our Sponsors