Event:

2021 Annual Symposium

Location:

Holiday Inn by the Bay
Each December Educate Maine convenes hundreds of educators, business leaders, policymakers, and diverse citizens from across our state's communities at our annual Education Symposium. This year we are excited to celebrate an exciting milestone: 10 years of increasing the educational attainment and career readiness of Maine people.
Seeking Proposals
The success of our annual Symposium begins with you! We invite you to share your best strategies, innovative ideas, and in-depth knowledge with Maine's education and business leaders. Raise your voice and contribute to our state's shared knowledge by becoming a presenter.
We are seeking proposals that speak to:
Business and education partnerships that strengthen pathways into Maine's workforce
Diversity, equity, and inclusion initiatives that have a positive impact on education and workforce outcomes (emphasis on racial and gender equity)
Highlighting student leaders and/or student groups who are making a difference in their school communities
Policies in Maine or elsewhere that could help achieve Maine's statewide education attainment goal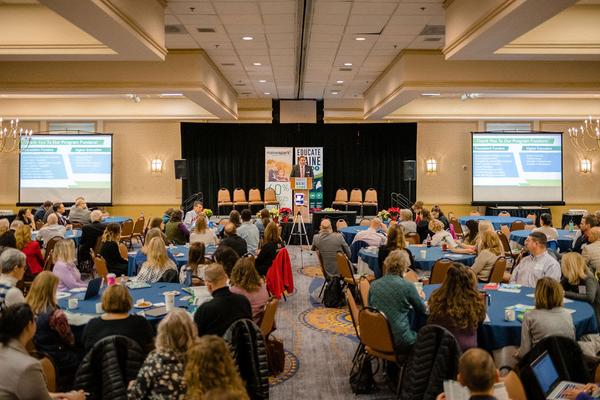 Where will the 2021 Education Symposium be held?
Our 10th annual Education Symposium and Leadership Awards Luncheon will be held IN-PERSON at the Holiday Inn by the Bay in Portland, Maine on Friday, December 10, 2021.
What are the key dates for submission?
Call for Proposals Opens: Monday, March 15, 2021
Submission Deadline: Friday, May 28, 2021
What are the proposal evaluation criteria?
Our team selects breakout sessions based on a number of factors. Our priority is to offer symposium attendees a diverse selection of engaging and informative sessions from which to choose. We value breadth, depth, expertise from within and beyond Maine, new ideas, compelling data, high-quality professional development, and topics related to our mission of helping Maine people reach their highest educational potential. Proposals will be evaluated more specifically based on the following criteria:
Alignment to one or more of the MaineSpark tracks (see below)
Clear and compelling learning objectives for session participants
Strategies for participant engagement
Where can I learn more about MaineSpark?
Educate Maine is a proud member of the MaineSpark coalition. Working together, the coalition's goal is for 60% of Mainers to hold a credential of value by 2025. The work is organized into five strategic tracks:
Strong Foundations - working with children from birth to 6th grade
Future Success - college and career readiness for middle school through college-aged students
Adult Promise - working with adults aged 25 and older
New Opportunities - attraction and retention of new talent for the Maine workforce
Policy - policies that support attainment of the 60% by 2025 goal
Questions?
Review the full RFP support document here or reach out via email.
Interested in sponsoring the Symposium?
Sponsors help us to host an event with a diversity of sessions and presentations that attract education and business leaders from across the state and region. Check out our sponsorship opportunities by clicking below.